Overview
The Verve® Bi-Folding screen system provides excellent flexibility and enables users to fully close or fully open the balcony to suit the varying conditions or use of balconies. Architects can select from a range of Louvre blade profiles or infills which can be used in vertical or horizontal applications as well as fixed or operable. Bifold Screens are set up in pairs and can be stacked to one side against the balcony wall providing a fully open balcony to take advantage of views or light inlet. These Bi-Fold screens can be installed within the balcony area or outside external balustrades.
Span Clarification
Spans provided are based on generic wind pressure of 1 KPa. Please contact our team if you require project specific wind pressures or terrain categories
Spans provided are an indicative guide and are subject to the building location and applied wind speeds
Spans provided are based on average end fixity value and subject to final connection detail
Where products are also acting as a balustrade, span capacity will be reduced.
Spans are provided where the product is used standalone, where additional products are connected, span capacity may be reduced.
For detailed span information, contact Arcadia 1300 458 458 or email sales@arcadia.com.au
Features
Get the most out of your sunscreens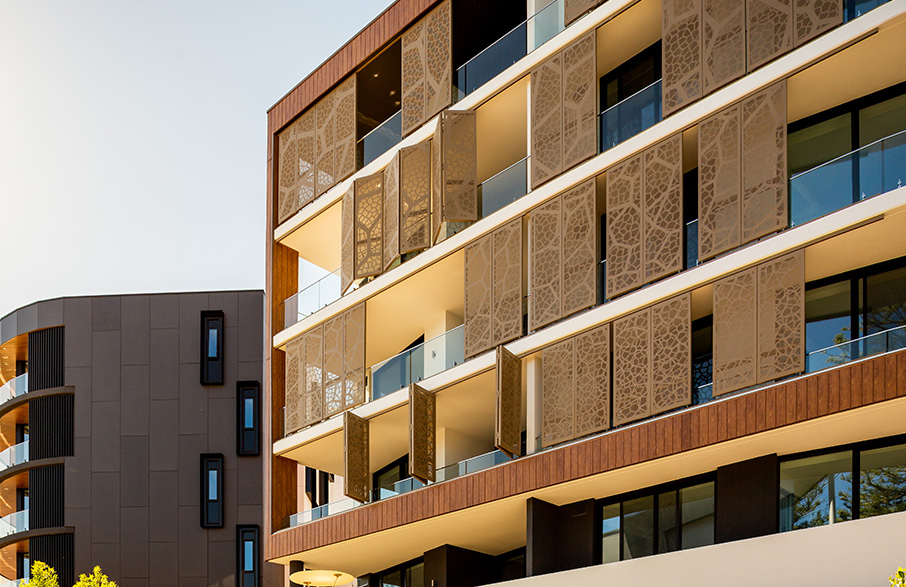 Verve® Bifold Balcony screens provide the most versatility giving apartment owners the best of both worlds - your balcony can be completely opened up or closed in to suit your requirements. Closing balcony bifold screens removes heatloads, stops glare, protects outdoor furniture, provides ultimate privacy and blocks wind. Opening up balcony bifold screens allows natural filtered light into apartments and allows apartment owners to enjoy uninterrupted views Verve® sunscreens are fitted to quality track and rolling systems that ensure long-lasting durability and smooth performance and can take multiple screens within the one track. Infill products include fixed, operable, vertical, and horizontal Blades, as well as a range of Standard Perforated, Imagery Perforation, 3D Perforation and Lasercut aluminium infills to suit your building design.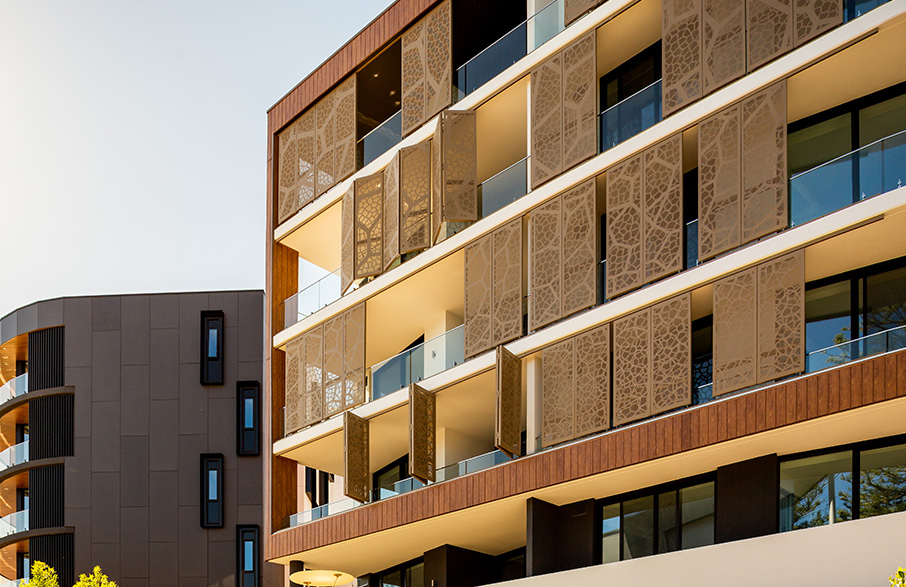 Living Sustainably
The integration of Verve® sunscreens will improve the sustainability and energy efficiency of your project. The incorporation of sun shading on the building façade means that the heat loads and solar radiation into the building are greatly reduced and therefore the building's energy efficiency increased. Arcadia has designed the Verve® sunscreens as a product to be include by building designers to achieve performance outcomes for building energy efficiency under Section J Energy Efficiency requirements.
Factors to Consider
Typically the Arcadia Verve® system is top hung with the top track being fixed to the soffit/structure. It is imperative that adequate substrate is included in the building design at early stages to ensure sufficient structure and engineering requirements can be achieved. Our Design and Engineering Team are available to assist architects and designers looking to integrate these products into building designs. It is critical to the operation and installation of the Verve® sliding and bi-folding screens that the substrates are level, straight and correctly aligned with each other. Arcadia has inbuilt tolerance system to cater for certain tolerances, however our Design Team can assist in early stages to achieve a buildable design while accommodating the challenge of sloping balconies, drainage, integration with flooring and balustrades.
Adding Life and Artwork
Designers can select from an endless collection of colours, finishes and infill solutions to perfectly complement creative architectural designs. Our range of imagery and customised Perforated products can be fitted within the Verve Balcony screen adding variation within the building façade and enabling designers to interweave artwork and building heritage into their project. In addition, Perforated infill can be finished in a broad range of powdercoat, anodise and timbergrain colours and textures which are Australian Standard Compliant, sustainable, durable, and are guaranteed with a long-term warranty.
Applications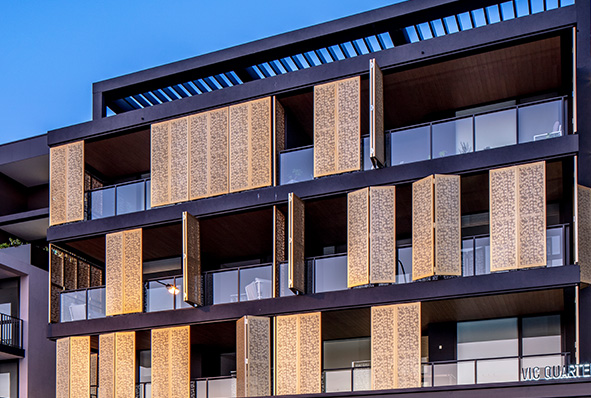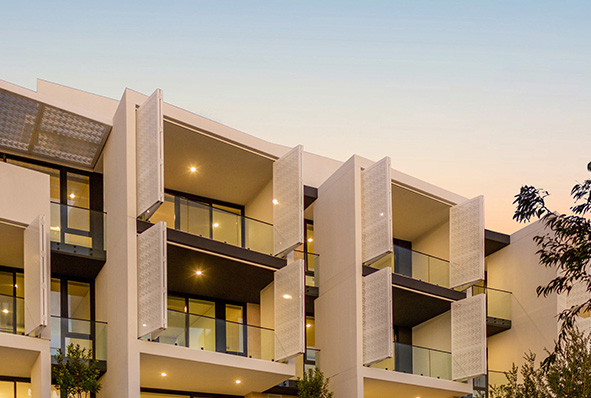 Contact our sales team for assistance on your project
CONTACT US